My favorite time of the month, time to share what I have been reading. Go on over to Life According to Stephanie and Jana Says to join in on the fun. It is the perfect link up to find good books and share your good books. As always you can always follow me on Goodreads as well.
I read a lot this month, mostly because I kept picking up easy and quick reads. I also really had some hit and miss books. I read a lot of books that just weren't my style I guess. It was definitely an interesting reading month.
1. Shopaholic to the Stars by Sophie Kinsella:
I am a fan of the Shopaholic series. Normally I find the main character silly and genuine. Then came this book. I was crushed after a few chapters, pissed off after a few more and disappointed by the end. It was a terrible book. It was longer than it needed to be and the main character was so much WORSE than she had ever been. You would think at this point she would have grown up a bit. There was an opening left for the next book so maybe that one will be much better.
2. It Looked Different on the Model: Epic Tales of Impending Shame and Infamy by Laurie Notaro:
It was an easy read. Easy to pick up and put back down again for short bursts. The author kept me laughing with her hilarious view points on life. I read it within two days.
3. The Idiot Girls' Action-Adventure Club: True Tales from a Magnificent and Clumsy Life by Laurie Notaro:
I struggled with this one. I didn't think it was funny at all. I barely cracked a smile. It was a lot of drinking stories and weird stories about things that I couldn't relate to at all. After enjoying her above book it was a let down.
4. The Rose Garden by Susanna Kearsley:
After a two nonfiction books I was ready to read a little fiction. This book was beautiful. It was well written. The author had a way of setting the scene so beautifully you almost felt like you were there. You almost don't want to put it down. It was slow to take off but once it took off I wanted to keep reading. I really fell in love with this book and the place she was writing about.
5. People I want to Punch in the Throat: Competitive Crafters, Drop-Off Despots, and Other Suburban Scourges by Jen Mann: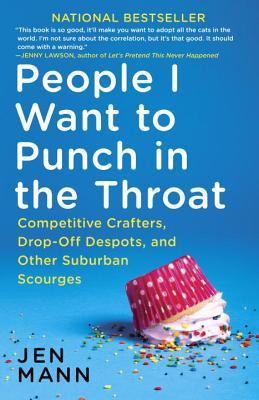 I felt this book could have been really funny if executed differently. The basis behind the book was good and I did chuckle at a few stories. BUT the author came off really whiny and sort of like a bitter outcast on some of the other stories..
6. Winter Street by Elin Hilderbrand:
I have never rated a book one star because I think authors work hard on their books and I respect that. But this book got my first ever one star rating. It was terrible. It jumped all over the place. The writing style was horrible. The ending was downright terrible. The drama was even worse. Seriously, there was no scene setting and no explanation half of the time of what was going on.
7. Forever, Interrupted by Taylor Jenkins Reid:
I cried, I will admit, many times while reading this book. It was devastatingly sad. The idea that the main character only got a very short period of time to be in love with someone and then she lost him broke my heart.
8. Magic Bites by Ilona Andrews: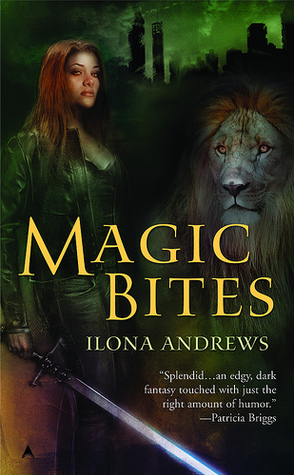 I don't even know why this book peaked my interest but it did. Normally I don't read a ton of books like this but one I picked up this book I was hooked.
9. My Nest Isn't Empty, It Just Has More Closet Space: The Amazing Adventures of an Ordinary Woman by Lisa Scottoline:
I have to admit that I have never read her fiction books but have fallen in love with her nonfiction books. She has a very funny outlook on life and she included more stories by her daughter in this one which was a lot of fun. It was great seeing the contrast between mother and daughter's take on things.
10. Meet Me at Emotional Baggage Claim by Lisa Scottoline:
Again, lots of fun to read both of their outtakes on life. Their relationship is great. I love how they relate to each other and talk about the change that happens when daughters grow up. Some of the stories were repeats but some of them were new as well.
11. The Job by Janet Evanovich:
Reminds me a lot of her Stephanie Plum series which I LOVE as well. I just love her books because they are easy to read, fun and have a lot of humor thrown into them.I devoured this book within a day. You can pick up and put down the book easily, so it is great to fill in those 5-10 minute gaps in your day. Easy to read but also a lot of fun.
12. Mariana by Susanna Kearsley:
I really enjoyed The Rose Garden above, so I decided to get another one of her books. I was not disappointed. This book was beautiful. It was again well written and sucked you deeply into the story line. I almost wanted to pack my bags and move in with the main character. I fell in love with her house and her friends. I was a little sad when the book ended. The great part, it did not end the way I thought it would. I am itching to get my hands on another one of her books.
Okay, that is it. Seems like a lot of reading and it was. I always like it when I can get some quiet time to read through a good amount of books. I am sad that I got some bad eggs in there that weren't my style (though they might be someone else's) but all in all I read some great books.
So what did you read last month??